INSTANT PHOTOS, LASTING MEMORIES
Photo booths are an increasingly popular mainstay at modern weddings that allow you and your guests to capture the joy and excitement of your special day. To maximise the benefits of your photo booth, there are certain aspects every couple should consider. Cloe Timperley explores a number of ways that that you can get the most out of your photo booth on your wedding day.
Photographers and weddings go hand in hand; every couple understands the importance of hiring a professional photographer to capture all the intimate moments from their big day. It's also important that your loved ones have the opportunity to snap a few cherished mementos, because your wedding is equally as special to them as it is to you. A photo booth is the perfect solution – it provides wholesome entertainment for your guests, while also capturing your friends and family at their relaxed and most candid.
The instant photo strips provide a lasting souvenir for both you and your guests, which can then be shared to social media, pasted into a guest book or simply treasured for years to come. To take the stress away from organising your photo booth, we've compiled some key tips and tricks to help you and your loved ones get the most out of your booth on your wedding day.
CHOOSE WISELY
Choosing a photo booth may seem simple, but it's important that you do your research and consider all the differences and similarities of the services that are available before you decide on what to hire. Do you want a classic, enclosed photo booth or an open-air booth? Open-air booths can accommodate a lot more people, but you might prefer the feeling of being up close and personal with your guests in an enclosed booth.
Similarly, a black and white photo booth can offer classic charm and a vintage aesthetic, but if you want customised photo strips and social media integration, you'll need to hire a modern photo booth. Many photo booth hire companies offer a diverse range of photo booths and packages to suit all tastes and preferences, so make sure you shop around for your perfect fit before saying 'cheese'.
HAVE SOME FUN
Props and costumes are a great way to get your guests engaged, and it's a perfect chance to snap them during some of their funniest moments. Half the fun of a photo booth is pulling silly faces with your friends and posing with funny accessories, so a few well-placed mustachios on sticks, feather boas and comedy glasses will go a long way in producing some hilarious results.
Props are also useful for drawing camera-shy patrons out of their shell, so it's important to provide a few silly bits and pieces for the shrinking violets in your family. Think about setting the scene as well; many couples set up a custom backdrop with decorations to really make the most out of their photo booth. A red velvet curtain is a timeless option, or you might like to hang some bunting or a disco ball for a jovial atmosphere.
HIRE A 'BOOTH BUTLER'
While many couples simply print out a large sign with instructions for their guests, you can go the extra mile and hire an attendant or 'booth butler' for your photo booth. Most premium photo booth packages include a specially trained booth butler who will make sure everything runs smoothly over the course of the evening, and will also explain to your guests how to use the photo booth correctly.
Booth butlers come dressed for the occasion in professional outfits, and if you decide to have a photo book, your attendant will take care of compiling photographs for the album and encourage your guests to sign. It's also important to consider unforeseen technical disasters when deciding whether or not to hire a booth butler. The last thing you want is your photo booth going to waste because no one knows how to fix the paper jam.
LOCATION, LOCATION, LOCATION
A photo booth is a social hub that brings people together, so you want to make sure that it's located in a visible and easily accessible spot. Your wedding venue might have a side room or secluded corner that you think would be perfect for your booth, but a photo booth that's out of sight is too often out of mind. A central spot that's close to the dance floor or bar is a prime position, as your guests will be more inclined to take advantage of the photo booth if it's amidst all of the excitement.
Don't forget to consider the special requirements of all your guests when deciding on the site. You want to make sure that all of your loved ones can participate in the fun, so if you're accommodating people whose mobility is challenged, consider placing your photo booth in a spot that can be easily accessed by a wheelchair.
GET YOURSELF INVOLVED!
Remember that the photo booth is also for you and your partner. Many newlyweds can become so consumed with socialising and greeting guests on their wedding day that they forget to pop into the booth themselves. When the big day is over and you're looking back through your photo album, you want to make sure there are some snaps of you and your true love wearing fake noses and silly hats! Make sure you take a couple of minutes to cuddle up in the photo booth with your partner, because a catalogue of guest images without a picture of the bride and groom could be disappointing. Don't forget that the members of your wedding party can also become occupied with formalities and mingling, so try to encourage them to get involved in the action as well.
It would be a wasted opportunity not to capture photos of all your family and friends as they celebrate such a wonderful occasion with you. With a little forethought and planning, you can make sure each guest captures their own memorable token at your wedding, and that you all walk away with a lasting memory of the joyous celebration.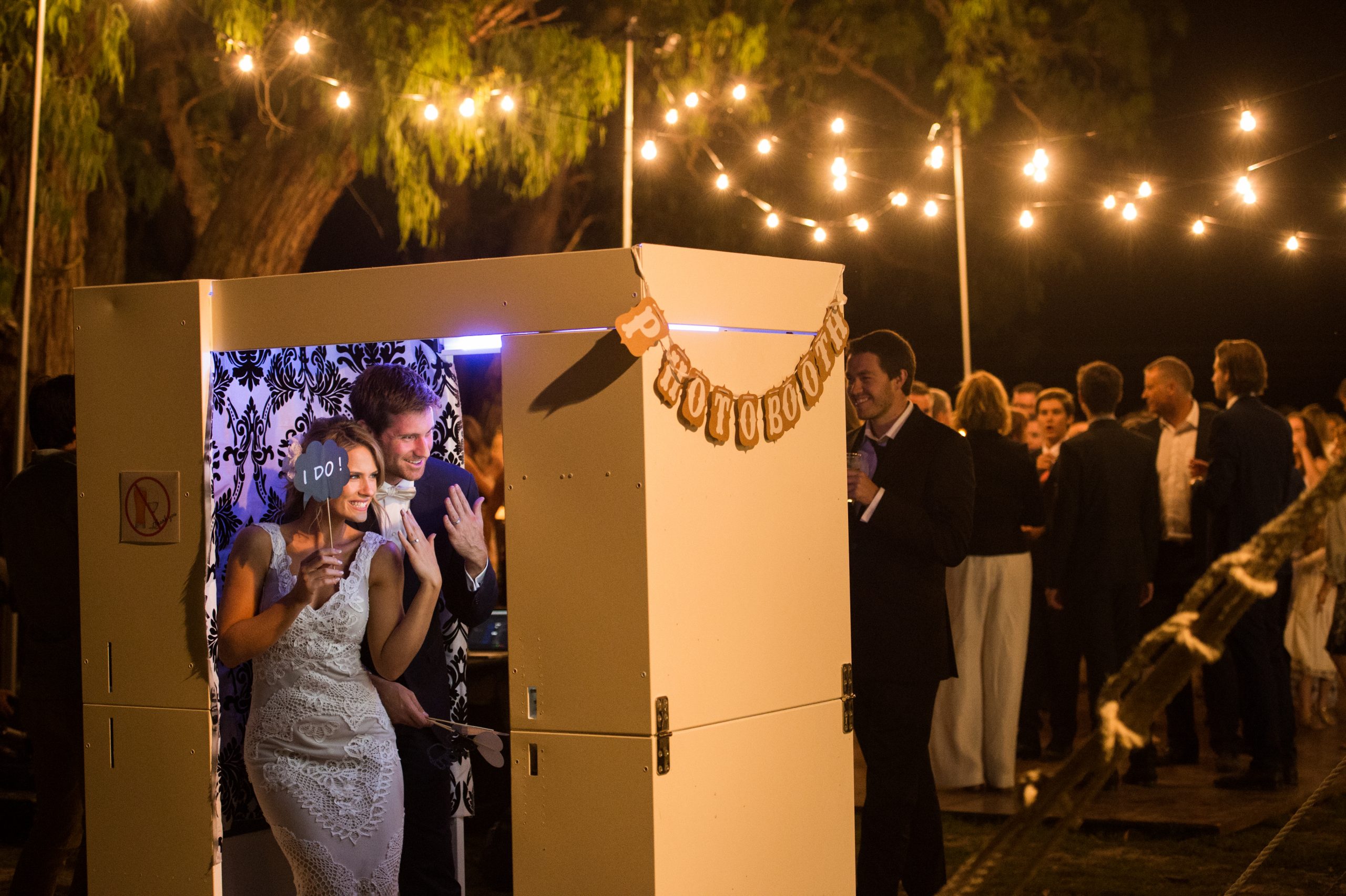 IMAGE CREDIT: Jerry Ghionis